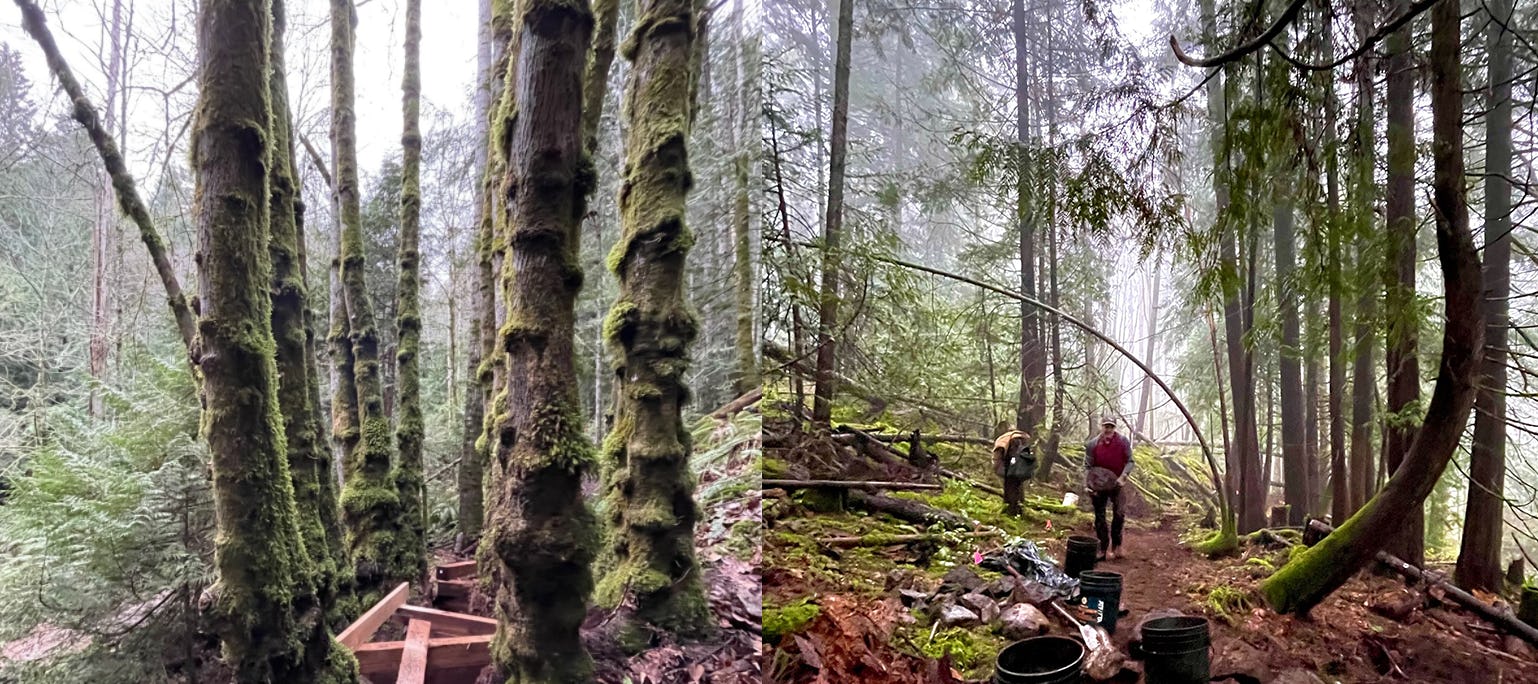 In the coming week or two, you'll see some changes to Centrefold. The climb from the bottom of Torpedo Run to the bottom of Switchbacks will be decommissioned and rehabilitated. A new climb section will be opened (the beginning section being the old Torpedo Push Up), connecting to Switchbacks. Eventually, this climb will continue up the existing Centrefold and come out at the top of Switchbacks.
A huge shout-out goes to Erik, who's spent many long days cutting in the trail. A big shout-out also goes to the CRD for supporting the project by doing several walk-throughs to find an ideal line, hauling out material for the builders, as well as buying all the wood for the bridge currently in the works!
Q&A
What's the deal?
The existing section to the bottom of Switchbacks is an old logging skid road. Because it follows the fall line up the hill, it is prone to constant erosion and over the years has required continual maintenance that only lasts a short time due to seasonal water run-off. The new climb will require far less maintenance and present a much nicer ride to the base of Switchbacks. 
The second part of the trail will continue up the old Centrefold push up section and come out near the top of the Switchbacks. The new line will be a challenging blue level climb connecting riders to Dave's Line, Twister, and 90's Jank. 
Is Switchbacks changing?
Not at all. It will remain a black climb.
Why shut down the existing Centrefold climb up to the start of switchbacks?
The existing Centrefold section isn't maintainable and is really just an old road. While we might sometimes miss the grunt straight up, we get a purpose built climb trail in exchange. The new trail is considered a sustainable reroute of the existing Centrefold climb.
What's going to happen to the decommissioned part of the trail?
Working with the Land Manager, we'll do an environmental restoration of the old skid road and let the forest reclaim it as its own. We'll chew up the road, pull in soil and organics, do a bit of transplanting, divert and shed water to the creek, and let everything grow back.
What about Torpedo Push Up?
It's been slightly rerouted. You'll now climb this new Centrefold climb trail for a bit and then cut-off to the right to 'push' up the rest of the way. 
When will the section from the start of switchbacks to the top of switchbacks be complete?
Work will start sometime over the next 6-12 months (need to finish upper Organ Donor first)!
Thanks for everyone's support. We're stoked on the trail and hope you are too!!
Jesse